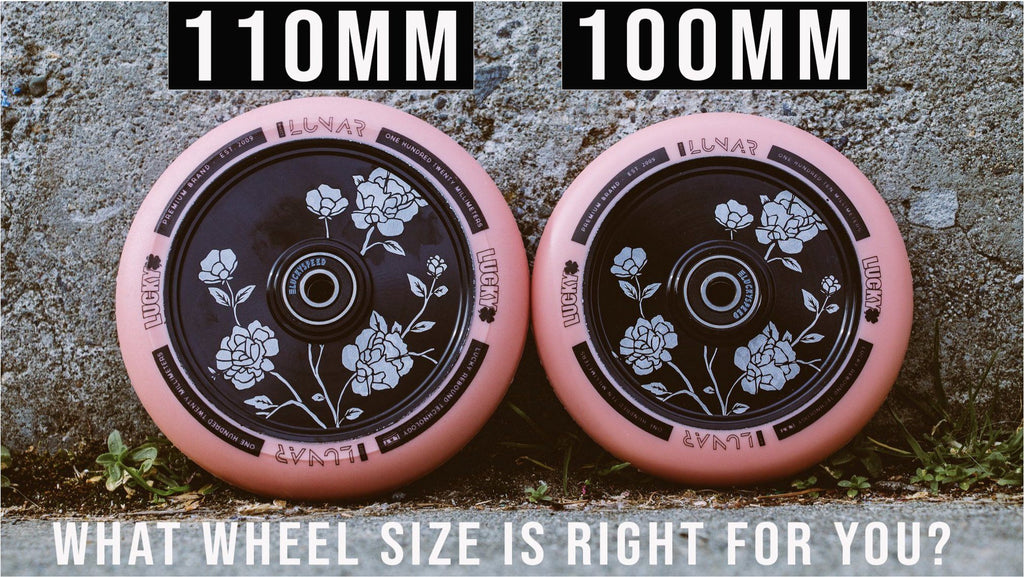 110mm VS 100mm Pro Scooter Wheels
The two most common sized pro scooter wheels in the industry are without a doubt 110mm and 100mm. We have seen a few companies start to make 125mm wheels but they haven't really taken off because in order for them to work you need a bigger fork and a bigger brake. We do make a 120mm scooter wheel but that is a topic for a different post. The pro scooter industry is going in the direction of bigger parts (120mm wheels, 22" long decks, taller and wider bars, etc) but for now 110mm and 100mm scooter wheels are the most common wheel sizes for most riders. Kids sometimes don't understand the difference between the two and are confused on which ones to get when it comes time to order new wheels. Allow us to help you out.

Below we will walk you through some of the key differences and advantages of both 100mm and 110mm pro scooter wheels. 
110mm
The most common wheel size in the pro scooter industry would have to be 110mm. Why is this? Here are some key points! 
Advantages: 
Faster than 100mm wheels

Last longer because they have more urethane on them

Increases scooter deck base height, or more ground clearance for rolling over obstacles 

They look better than 100mm while on your scooter (in most peoples opinions)

Easier to manual with because the break is closer to the wheel


Disadvantages: 
More expensive than 100mm wheels

Weights slightly more 



100mm
Advantages: 
Less expensive than 110mm (in most cases)

Lighter weight 

Good for very young riders where a larger wheel is not needed


Disadvantages: 
Slower rolling speed

Lower ground clearance (your scooter deck will scrape more when dropping in on a ramp)

Will not last as long due to less material 
When it comes down to it, 110mm wheels are generally the best all around option for most scooter riders. They're faster, longer lasting and generally have more advantages than 100mm wheels. If you have the opportunity to get either, get 110mm wheels you will not regret it!  Also make sure to have the right tools if you are going to work on your scooter. Most pro or freestyle scooters will require either a 5mm or a 6mm hex key to change out the wheels. 
If you are in the market for a new set of wheels check out our vast selection of 100mm, 110mm and 120mm pro scooter wheels. Lucky offers some of the best in the scooter industry with a warranty on all products, at 180 days we stand behind our scooter parts! 
June 22, 2020
---