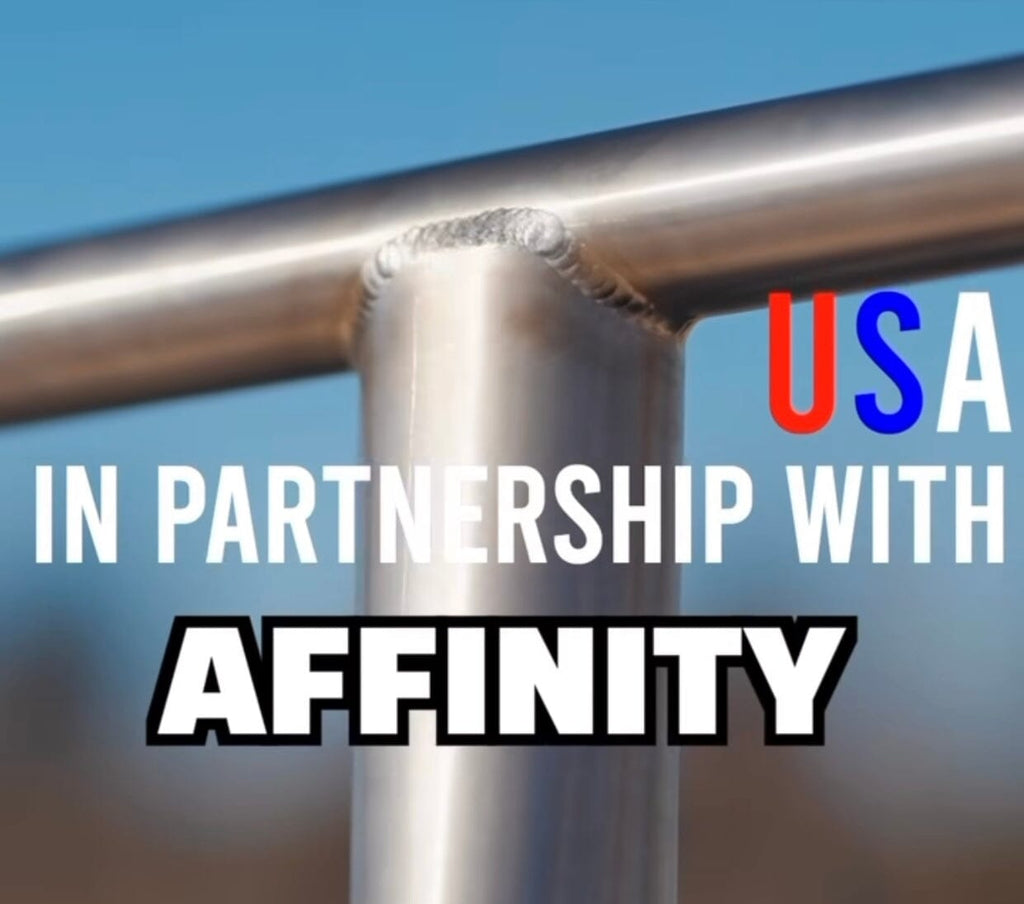 Affinity and Lucky Team Up Making Titanium T-Bars
Lucky Pro Scooters is proud to announce its new partnership with Affinity, a leading scooter bar manufacturer. Together, these two companies will bring to life the latest Lucky Team Ti bars, designed and engineered in the United States.
T-Bar version of the lucky ti kink bar we all know and love.
The quality just went up since they are made b Affinity. Let's look at this exciting development and see what it means for Lucky Pro Scooters and its riders and fans.
The Latest Technology 
Affinity has long been known as a top-quality builder of scooter bars. The company's emphasis on precision engineering, handmade craftsmanship, and advanced materials has earned them a reputation as one of the best in the scooter bar game.
This new partnership with Lucky Pro Scooters brings together two great companies dedicated to providing top-of-the-line products for scooter riders and competitors everywhere.
Affinity and Lucky Ti Bar Features:
Lightweight yet Strong

Made by Affinity in California USA

High Resistance to Corrosion and Rust

Smooth Finish and Comfortable Grip

Increased Durability and Optimal Performance
The Lucky Team Ti bars are made from lightweight titanium alloy, more potent than steel but weighing significantly less, giving riders more control and agility while they ride. Also, just the black Lucky Ti Kink bar, feature a high-quality powder coat material.
The bars also feature a unique design that provides additional stiffness and strength to the crossbar making the bar extremely strong light and flexible. This adds to the light, strong, responsive bars - perfect for anyone looking to take their scoot skills to the next level!
Benefits for Riders Everywhere
The partnership between Lucky Pro Scooters and Affinity means excellent things for riders everywhere. They will have access to some of the best-performing bar lineup. They can rest assured that each was created using only the highest quality materials.
In addition, by manufacturing these components entirely in the USA, riders can be sure that their parts were made with strict safety standards in mind - something often takes work to come by when buying other random products. Lucky and Affinity made this bar extremely strong, light, responsive, and effective for anyone with extreme style and performance.
Nasa Grade Titanium weight: 1.9 Lbs
Lucky Pro Scooters is thrilled about its new partnership with Affinity and looks forward to releasing even more innovative products. With their commitment to quality craftsmanship and high-performance parts, riders worldwide can be confident that they are getting only the best when they choose Lucky Pro Scooters as their go-to brand for all their scootering needs!
Affinity Lucky Ti Team Bars are Oversized and 24"x 28" Tall
Titanium T-Bars of this Lucky - Affinity collab are 24" Wide by 28" Tall which is larger than other the 26h x 26w 660mm bars
Be sure to check out our website for more information on our latest product offerings! So don't miss out - get this incredible new Lucky Team Ti bars today!
The near Nasa grade Titanium makes this bar one of the best of the Luck'y bar lineup. 
With an unbeatable combination of quality construction materials, precise manufacturing processes, and American reliability - you won't regret it!
---