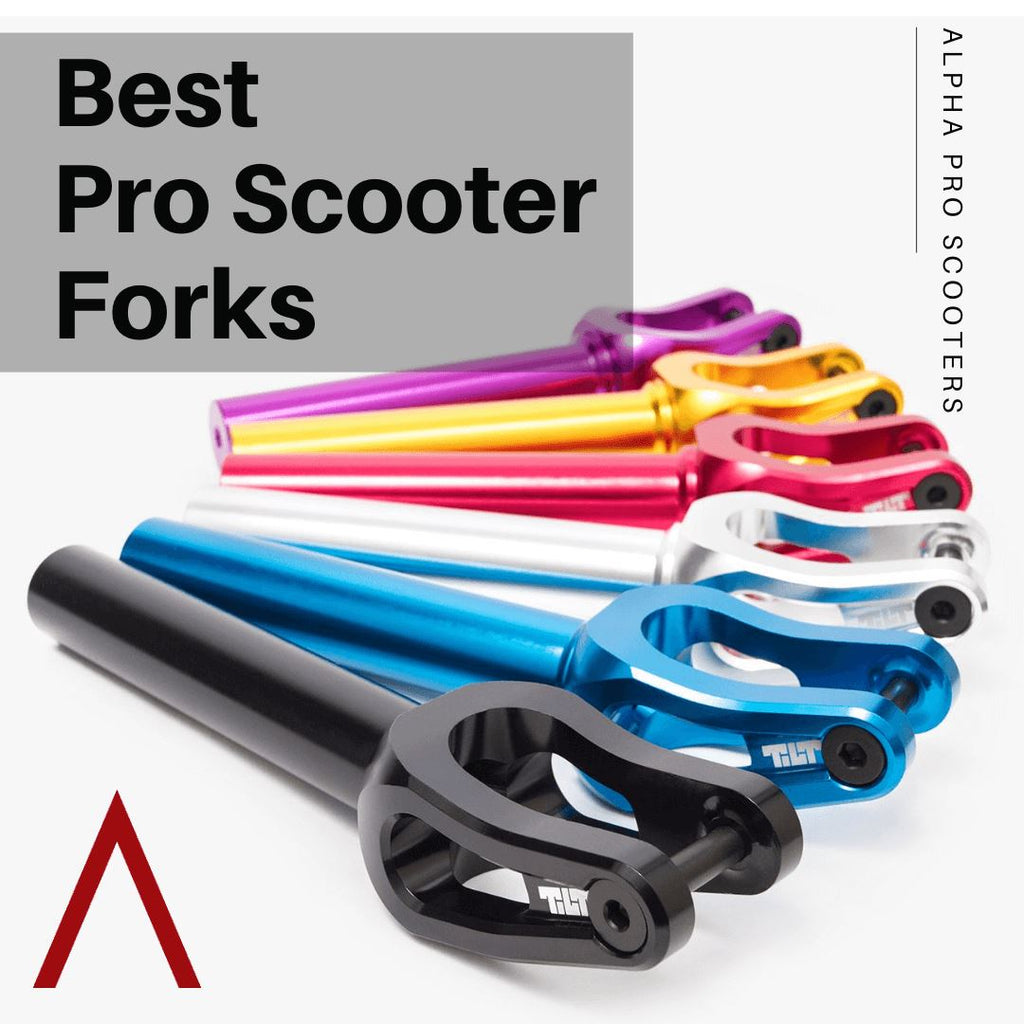 Best Scooter Forks For Amateurs and Pros
If you're into pro scooters, chances are you've heard the term "scooter forks." But what exactly are pro scooter forks? And how do you know which one to choose for your scooter? In this blog post, we'll guide you through the different types of scooter forks and explain why finding the right fit for your riding style is important. Let's get started!
Our Picks For Best Scooter Forks
What is a scooter fork?
A scooter fork is a vital component of a scooter that attaches the front wheel to the deck, consisting of a front axle that passes through it and is tightened on both sides providing stability and support. All pro scooter forks feature some compression system at the top to squeeze it up and hold it in place. Selecting the right one depends on weight rating, compatibility with other components, and height requirements. 
More importantly, you must consider what type of compression system suits your riding style and desired wheel size - whether it be a threaded fork or one of the more popular IHC, HIC, TCS, SCS & ICS compression type forks. 
While threaded systems generally require less maintenance due to their fewer exposed moving parts, they also offer the weakest compression and become loose often and quickly. Threadless forks, on the other hand, offer more durable compression and customization options allowing for more adjustability.
Ultimately, understanding all types of available Pro Scooter Forks before deciding which suits your needs best is vital in ensuring you get the correct setup that fits your preference while maximizing performance, durability, and style.
Do Scooter Forks Break?
It doesn't happen often, but yes, scooter forks do break from time to time. This is most commonly seen in experienced riders willing to take on big jumps or perform tricks such as 360s and tail whips - which involve putting rotational stress on the fork.

Although these tricks are fun, a hard landing can damage or break the fork. It's essential to always keep an eye out for any signs of cracking in your fork. If you have an issue, consult a local scooter shop or contact us for advice. Even though forks can break, don't let that stop you from getting that new trick down!
Types Of Scooter Forks
When looking for the perfect scooter fork type, there are some different compression systems to choose from SCS, HIC, IHC, TCS, and ICS. It's essential to take some time to understand the features and benefits of each type to make an informed decision about which one is best for you.

These forks have unique advantages that help you get the most out of your sessions. With the proper research and understanding of your individual needs, you'll be able to find a scooter fork that meets them comfortably and confidently.
Scooter Forks For IHC
IHC forks are known for their slim design and distinctive rigid shim. This shim is designed to fit over the fork and into the surrounding bars, providing extra grip to ensure a secure fit.

The compression bolt screws into the top of the fork, which causes a slight expansion of the shim, locking it firmly in place. As well as providing additional support, this ensures all components remain firmly connected while riding.

Due to their smaller size, IHC scooter forks are perfect for those who want a light but strong setup that can provide excellent stability when performing tricks and maneuvers.
Scooter Forks For 12 STD
The scooter industry continuously innovates and strives to provide reliable, durable, safe rides. With the recent launch of Ethic's "New Standard" series, which features a larger Axle size of 12 STD, the industry has achieved even greater safety and performance. Forks like the Ethic Legion V2 12 STD come stock with the new larger axle.
Additionally, Ethic designed the 12 STD axle to work with the new industry standard 125mm x 30mm wheels and bigger wheel bearings and axles - meaning a more reliable and durable ride for any scooter.

This, in turn, translates into fewer problems with bending or snapping axles, blowing out bearings, or other potentially hazardous issues for riders. The larger axle also offers better control and stability when performing tricks, adding another layer of safety to your ride.
Scooter Forks For SCS & HIC
 SCS and HIC scooter forks are thicker than all the others. You may be curious as to why these two forms of compression are lumped together. Both SCS and HIC forks rely on the same thickness, with the only significant variation being the need for a shim for HIC. This works the same way as IHC, but with bigger oversized bars.
 On the other hand, SCS forks are the same as HIC forks but don't require a shim. This is because the SCS clamp is uniquely designed to hold the fork in place without a shim. This is accomplished by inserting the top of the pro scooter fork into the head tube of the deck and then into the bottom of the SCS clamp. The fork should then rest slightly below the lower section of the SCS clamp.
 This small gap works perfectly for securing the fork with a compression bolt. The compression cap rests above the opening. You then insert the compression bolt into the cap and the fork, just as you would with a shim. The compression bolt is then tightened, pushing down the compression clamp and connecting the fork to the head tube of the deck. SCS is the strongest compression system available.
Are all scooter forks the same size?
No, not all scooter forks are the same size. The size of your fork depends on which compression system you're using and if your fork is compatible with your wheels.

If you need new wheels but want to avoid purchasing a new fork for a specific size, we've compiled an incredible list of the best professional scooter wheels.
Examining the specs of your fork will tell you what size wheels it is compatible with. Some forks on complete scooters are only compatible with 100mm X 24mm wheels. Most forks can only fit wheels up to 120mm X 24mm, the most common size of a scooter wheel. However, some forks can fit wheels up to 125mm X 30mm.
Fortunately, our list of forks below is separated according to compression type and wheel size compatibility. We hope this makes your search easier!
Our Favorite Pro Scooter Fork Picks
If you're looking for the best scooter forks for your ride, you've come to the right place!

We've researched and rounded up our favorite pro scooter forks, from different compression types to wheel size compatibility.

Whether you're a beginner or a pro, you will find the perfect fork for your needs on our list. Check it out below!
Lightest Fork for 24mm Wheels | SCS & HIC

Discover the Aztek Circa 3 fork, the third version of the lightest pro scooter fork available. This fork is crafted from aluminum alloy, making it strong and lightweight. It is compatible with various setups, including 110mm x 24mm wheels and SCS and HIC compression systems. If you need a fork for 30mm wheels, the Templar by Aztek pro scooters provides an unbeatable mix of strength and lightness.

Buy Aztek Circa 3 Fork
Lightest Fork for 30mm Wheels | SCS & HIC
The Templar Fork is the perfect choice for riders looking for a lightweight and durable fork. Its 7075 aluminum alloy construction, 3D stress analysis for enhanced strength and weight, and 8mm compression bolt and cap offer reliable performance for any shredder. Plus, it's the lightest 115x30 mm fork ever made, weighing only 169 grams! So if you're looking for a high-quality fork that offers exceptional durability without sacrificing lightness. 

Buy Aztek Templar Fork
Most Versatile Fork | SCS & HIC
The Fuzion Paradox Forks are versatile, working with any wheel or axle. They come with an SCS compression cap, HIC kit, 24mm, and 30mm spacers, as well as 8mm and 12 STD axles, so they fit any deck and wheel size. In addition, compatibility with SCS, HIC, and TCS compression makes the Fuzion Paradox the best scooter fork for versatility and an excellent option for any scooter rider, regardless of skill level.

Buy Fuzion Paradox Forks
Strongest Fork | SCS & HIC
The Envy SOB V3 SCS Forks are incredibly strong, hence the name. SOB stands for Slightly Over Built for unbeatable durability, even for the most challenging tricks. These forks weigh less than a pound and have spacers to fit any wheel width. 

Buy Envy SOBv3 Fork
Lightest Fork for 24mm Wheels | IHC
Luckys' Huracan fork is their newest addition and is world-renowned for its strength and durability. Not only is it great for foot jams, nose blunts, and crooks, but it looks great too!

Buy Lucky Huracan IHC Fork
Lightest Fork for 30mm | IHC
Combining lightness and strength, the Envy Diamond IHC Fork is ideal for street or park riding and comes with 28mm and 30mm wheels spacers. Envy Diamond IHC forks are incredibly light yet still very durable.

Buy Envy Diamond IHC Fork
Most Versatile Fork | IHC
The Oath Shadow fork is considered the best pro scooter fork for versatility due to included wheel spacers and 10 different color options, allowing it to match any setup. The ultra-lightweight fork fits any integrated headset up to a 125mm wheel and includes spacers for 24mm and 28mm width. It also has some of the most unique color options. This fork comes with an IHC kit with a top cap, bolt, compression ring, and shim, making it an ideal choice if you're looking for a lightweight fork with IHC compatibility.
Buy Oath Shadow IHC Forks
Strongest Fork | IHC
The Ethic Legion Fork is back with its newest edition, boasting the same great quality and affordable price as always. To make it even lighter, the steering tube and fork legs have been given cutouts. The sleek cutouts add a touch of luxury. The Ethic Legion is compatible with 120mm wheels and comes with the IHC compression kit and axle.

Buy Ethic Legion IHC V2 Fork
Best 12 STD Fork | SCS
The Ethic 12 STD SCS fork is the 12 STD version of the Legion V2. It has a larger axle for a bigger wheel, making it one of the best forks at a great price. With the V2, Ethic has maintained the lower price tag but made the fork look and feel more luxurious.

Buy Ethic Legion 12 STD V2 HIC Fork
Overall Best Fork | SCS
The Ethic Merrow V2 SCS Fork is our overall best pro scooter fork. Also, it is an iconic must-have for scooter riders that blends unparalleled lightness with a sleek design and enhanced toughness. This second version of the Merrow brings even greater strength, improved spacers to reduce breakage, making it a lightweight masterpiece weighing only 0.65 lbs.

Buy Ethic Merrow V2 Fork
In conclusion, riding Scooters is all about having fun, so finding the correct type of fork is essential for ensuring a smooth ride. Several types of pro scooter forks are available on the market today – from HIC & SCS to IHC & TCS - so make sure you do your research when deciding which fits both your needs and riding style perfectly!
Remember that there's a difference between brands and models that also have different size forks.
Always double-check for accurate sizing info before purchasing new parts or accessories for your whip! Good luck!
Select our site live chat customer service page for more details or product specifications information.
---