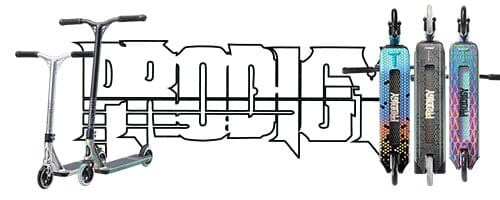 Envy Prodigy S9 Guide
This Envy Prodigy S9 guide explains the key features of this top-selling complete. The Prodigy S9 by Envy is the number one selling complete in the world and a great choice for beginner to intermediate-level riders. This complete was first released in 2022 and is the perfect choice for any rider looking for exceptional performance and style.
The Prodigy S9 is made from lightweight materials like aluminum and reinforced plastic. This makes it a lightweight and durable choice, perfect for taking on any skatepark or street. It also comes with the amazing IHC compression system, which allows riders to shred while keeping their scooter dialed.
The Envy Prodigy also offers riders a wide range of features that make it an excellent choice for any rider. It has a spacous deck, durable 120mm wheels, and a lightweight handlebar. It also has a wide range of accessories, like a foot fender and pegs set. These accessories allow riders to customize their scooter and get the most out of their riding experience.
The Prodigy S9 also offers riders a very smooth ride. 
Is the Prodigy S9 good?
Yes, the Prodigy S9 is good. In fact, It is great and has been the number one selling scooter in the world for the past two years.
What age is the Envy Prodigy s9 for?
 We suggest the Envy Prodigy S9 Complete Scooter is best for 8 - 14 yr olds. The bar height usually fits this age group best.
How Much Does the Envy Prodigy S9 Weigh?
The Envy Prodigy S9 Pro Scooter weighs 7.7 lbs. This scooter features an IHC compression system that helps to reduce the overall weight of the scooter.
How Tall is the Envy Prodigy S9?
The Envy Prodigy s9 is a total of 34.6 inches tall from the ground up. 
How much does the Envy Prodigy S9 Cost?
The Envy Prodigy S9 scooter typically retails for $220. Prices may vary depending on the retailer and any discounts or promotions they may be offering. You can find some color options on sale for $189.95 and maybe even less with the use of a discount code. The discount code FirstT for example will save you an additional 15%
What colors are available?
The
Envy Prodigy S9 Pro Scooter
 by envy is available in Oil Slick, Hex, Galaxy, Swirl, Toxic, Black with Oil Slick, and the new Reflect, Chrome and Matte Oil Slick colorways. It is a great choice for any rider looking for a pro scooter that offers exceptional performance and style. To hear more about the Envy Prodigy S9 Guide from Raymond Warner himself watch the video below. Or, see the Prodigy S9 Youtube video
here.
---