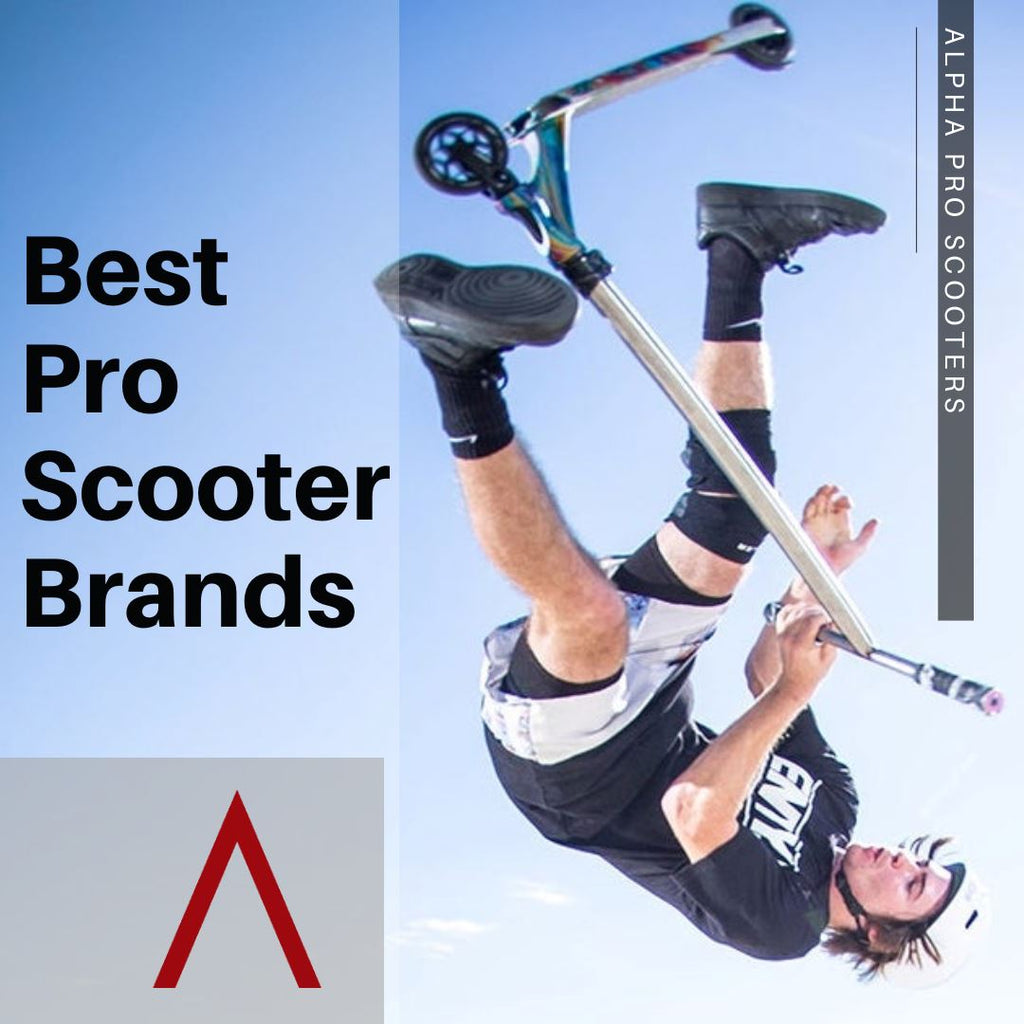 Best Pro Scooter brands For Beginners and Professionals
What is a pro scooter?
A pro scooter is a type of kick scooter that is designed for performing tricks and stunts. The decks of pro scooters are typically larger and sturdier than the standard versions, and they often include additional features such as stunt pegs and reinforced grind plates. Experienced riders at skateparks and other skate spots commonly use pro or trick scooters.
A pro scooter offers enhanced durability, smoother rideability, and upgradeable parts compared to a traditional kick scooter. Unlike the latter, a pro scooter doesn't fold or collapse, with the height tailored to the rider. Suppose you're searching for superior performance and added resilience. In that case, a pro scooter is a perfect upgrade from a standard kick scooter.
What to look for in a pro scooter?
Scooter Grips
Freestyle riding necessitates the execution of various tricks by the rider. Visualize performing a double backflip and your hand slipping off the scooter due to a loose grip. This can be potentially hazardous and detract from your performance and your assurance in your ride. Some grips are long and thin, while others are short and thick. Some are hard, while others have a soft feel to them. Consequently, it's essential to choose a good scooter with secure and comfortable grips or purchase them separately.
Scooter Bars
Personal preference is key when selecting the handlebars for your ride, with titanium, steel, and aluminum being the three types available. Steel offers strength and is heavier, whereas aluminum is lighter.
Titanium makes the best pro scooter bars since they are lightweight and strong but costly. Generally, steel is better for beginning riders, and aluminum for more advanced. Still, ultimately, it comes down to what you prefer. Most bars have a standard diameter of 1¼", though oversized (OS) bars with a 1 3/8″ diameter are also available. Adjustable handlebars are an option but are typically less stable than one-piece welded bars.
Scooter Fork
The type of Fork you choose is integral to your pro scooter setup. Threadless and threaded forks are the two main options. Threadless is generally the best scooter forks, providing maximum strength and performance. Consider what compression type each Fork offers to ensure your Fork is optimally compatible with your wheels. Making the right choice is essential for getting the most out of your Fork.
Scooter Deck
The deck is essential to any excellent scooter, as it supports the rider's weight and the other parts. When selecting a deck, you must know what you need to make sure that quality is a deciding factor, so you can choose one that is well-built, sturdy, and durable. Consideration should also be given to factors such as size, width, concave, and materials. A larger deck may be more comfortable, but it may also add weight to the scooter. It is essential to assess your needs to select the best deck.
Scooter Height and Weight
When selecting a pro scooter, ensuring the handlebar size is right for you is important. Suppose you hunched forward or feel uncomfortable in the shoulders and hands. In that case, the handlebar size is likely, not suitable.
The weight of your pro scooter can have a considerable effect on your riding experience. A lightweight scooter ensures maximum performance when performing stunts and tricks. However, materials that create a lightweight scooter may not be as strong as steel. They may require extra stability, resulting in additional weight.
As a beginner, finding the best scooter can be a balancing act. It would help if you had something stable yet lightweight, allowing you to progress as you get better. As you gain experience, you may be attracted to lighter pro scooters that provide more responsiveness.
We assess and choose products using this process:
This article provides an in-depth review of several popular products based on our 10 years of experience in the industry.
In this article, we assess and contrast various products according to the following:
1. Official and impartial product testing
2. Customer reviews
3. Product specs, features, pros, and cons
4. Guarantees, customer service department, and the seller's credibility
5. Our understanding of our reader's needs.
See the best Pro Scooter, Below!
1. Lucky Crew Complete Pro Scooter – Staff Pick
Reasons to Purchase:
1. Good scooter for riders beginning
2. Available in five unique colorways
3. Fully upgradeable to grow as beginners improve
The design of Lucky's Crew Pro Scooter provides durability and a secure ride on any surface with beginners in mind. Like all Lucky scooters, it features an eye-catching design that will make you stand out.
Lucky designed the Crew Pro Scooter from durable aluminum, making it ideal for tricks. It is among the best stunt scooters for the skate park, smooth riding, and entry-level stunt riders. With its compatibility with Lucky's extensive aftermarket lineup, you can customize your scooter to your exact needs, allowing you to keep up with your progress as a beginner while still looking stylish.
This complete setup comprises a 19" x 4.5" deck, a 23" x 22" Aluminum Kink Bar, a double clamp, vice grips, and a steel brake, all of which offer stability and security.
Pros:
✅Reinforced Deck
✅115mm Aluminum core wheels
✅Aircraft-grade Aluminum
✅ABEC 9 LuckySpeed Bearings
Cons:
❗️More Expensive Than Other Options
Our Final Assessment of the Lucky Crew Complete Pro Scooter:
Riders worldwide trust Lucky as a brand for its quality products and smooth ride, making it an ideal choice for beginners. Although more expensive than other starter models, the investment is well worth it.
2. Envy S9 Prodigy Pro Scooter – Premium Option
Reasons to Purchase
Suites beginner to intermediate riders 

Long-lasting construction 

Most popular among pre-teen riders
Most kids today like the Envy Prodigy S9 due to its pro-scooter-focused design. Its lightweight yet sturdy frame, large, non-slip deck, and ABEC9 bearings make it robust, allowing it to withstand high impacts and last for a long time.
Featuring 120mm metal core wheels, this great stunt scooter is lightweight (7.7 lbs) and offers speed and ease of maneuverability. It has comfortable grips and a rear flex fender brake for safety. Most teens and adults find that 34.6 inches total height is the perfect choice among trick scooters for skate parks.
This scooter is available in nine distinct designs, all featuring vibrant, electrifying graphics that will draw attention when out and about. It's no wonder it's one of the most popular scooters.
Buy Envy Prodigy S9 Pro Scooter
Pros:
✅120mm Metal-core wheels for a smoother scooter ride
✅High-quality, lightweight deck for greater maneuverability
✅Aluminum frame for increased durability
✅High-density aluminum Reaper Style handlebars for a stylish look
Cons:
❗️Not suitable for novice younger riders under 10 years old due to its height.
Our Final Assessment of the Envy Prodigy S9 Complete Pro Scooter:
Scooter riding enthusiasts, from beginner to intermediate levels, will appreciate this model's high-quality construction and impressive speed. Its sleek design and professional features make it a great choice for riders wishing to take their skills to the next level.
3. Overall Best - Lucky Prospect Pro Scooter
Reasons to Purchase
Most lightweight, complete Lucky scooter! 

Ryan Upchurch designed graphics featuring a rich and clean look. 

Stunt Scooter riders globally select PROSPECT for their signature tricks.
This scooter is bound to catch the eye with its stunning design, but its true beauty is shown when performing jumps and stunts. Ryan Upchurch's eye-catching artwork on the deck's backside complements its impeccable performance.
The world's best riders have tested these stunt scooters, showing their strength and resilience. Constructed with aircraft-grade aluminum, they are built to take on even the most challenging conditions, making them durable and reliable. Lucky scooters have demonstrated their strength and resilience.
Also, it's lightweight (7 lbs) and designed for intermediate riders, featuring larger 120mm wheels for increased speed with less effort. It's the perfect upgrade to help take your skills to the next level.
Pros:
✅The TIG-welded deck constructed from aircraft-grade aluminum
✅Total weight of just 7 lbs
✅Large 120mm hollow core wheels and an
✅Aluminum HexBar of 24.5 inches
Cons:
❗️The handlebar length of 24.5 inches could be too short for some riders.
Our Final Assessment of the Lucky Prospect Complete Pro Scooter:
This pro scooter is a top-tier choice for world champions and professional riders, boasting exceptional construction and an eye-catching design. Although it may cost more, it's worth every penny for the intermediate rider looking for an upgrade offering maximum control.
Buy Lucky Prospect Pro Scooter
4. Fuzion z250 Pro Scooter – Best Selling Pro Scooter
Reasons to buy
The perfect scooter for beginners building their skills at an affordable price

A wide variety of colors are available to select from.

Designed for long-term use.
So, if you're searching for a beginner-friendly scooter, the Fuzionz250 Pro Scooter is an excellent option with noteworthy features. In addition, it has the same handlebars as more expensive models. Its lightweight construction of the aluminum deck and steel frame (weighing only 6.9 lbs) provides a durable yet light design.
Choosing a freestyle pro scooter from multiple designs and colors can be challenging. However, the superior soft wheels act as a suspension system and make the scooter's landings comfortable, even for first-timers who tend to have more difficult landings.
Pros
✅light and strong steel kink bars

✅A deck made of aircraft aluminum, PU wheels

✅Features top their parts

✅Sealed Abec-9 bearings
Cons
❗️Requires tune-ups over time

❗️Bars are usually too small for teens

❗️Fork can bend on high impact from riders older than intended
Our Final Assessment of the Fuzion z250 Complete Pro Scooter:
In conclusion, this great scooter is one of the top-selling ones, which is a testament to its quality. It's especially suitable for beginners. Its double clamp and aluminum deck offer sturdiness without breaking the bank. It's the perfect scooter for beginners looking for a smooth ride. Also, it's an excellent stunt scooter for novice riders looking for a step up from cheaper options like Razor scooters, Slamm scooters, or Madd gear.
5. Lucky Covenant Pro Scooter – Built to Take a Beating
Reasons to buy
Top-notch materials produce a durable yet lightweight and smooth ride

Excellent style with two design choices

Stable and large, great for advanced riders
This awesome scooter is unquestionably one of our favorite pro models, not only ours – it has been Lucky's top-seller for two years! It's a great stunt scooter designed for those with advanced riding skills. 
After listening to customer and pro riders' feedback, Lucky created one of the best stunt scooters for intermediate to expert riders. Constructed to withstand serious abuse from advanced riders, it boasts a wider deck to provide extra foot space, large 120mm wheels for a smooth scooter ride, increased speed, and a triple bolt clamp holding everything together.
Summing up, the design of the Lucky scooter is worth the premium price, with its "business in the front, party in the back" style. Black and Neo Chrome with awesome artwork on the backside of the deck, it truly is a premium product.
Pros
✅Fits riders 5 ft and up

✅Aluminum deck

✅6061 Aircraft Grade Aluminum AirBar

✅120mm x 24mm hollow core wheels

 ✅Great scooter graphics designed by Ryan Upchurch
Cons:
Our Final Assessment of the Lucky Covenant Pro Scooter
This freestyle pro scooter is built to meet the demands of intermediate to advanced riders, featuring superior quality materials and craftsmanship. Although it may be slightly more costly than other models, it is worth every penny.
 Buy Lucky Covenant Pro Scooter
How much do pro scooter riders make?
Pro scooter riders make $59,000 annually, based on advertising deals and professional achievements. This number can be increased further by monetizing one's skills and name as a brand. However, this is the average annual salary.
In recent years, freestyle push riding has become a widely recognized extreme sport. Scooters were previously viewed as children's toys and used to travel to school. However, the introduction of pro push riding by teenagers has pushed the boundaries of this sport to a new level, with impressive double backflips, handrails, and air tricks. This has resulted in freestyle push riding becoming an increasingly popular extreme sport.
Due to the immense popularity of pro and stunt scooter riding, athletes are earning a significant income. This includes not only payouts from participating in various competitions but also from sponsors.
 R Willy and Dakota Schuetz
Ryan Williams and Dakota Schuetz are the game's highest-paid and most successful athletes. Recently, pro rider Dakota launched his own Kota Pro Scooters brand. Ryan is backed by Madd Gear Pro and is a regular at the Nitro Circus show. Widely considered one of the best pro scooter riders, he is also great on BMX bikes. He has created unique tricks, such as the double front flip 360 and the double flair, earning him Nitro Circus and Madd Gear Pro sponsorships. R Willy's social media is full of amazing stunts on scooters and BMX bikes. His name is featured on certain products of theirs, and he earns a share of the sales. His genius in this field is remarkable.
Dacota Schuetz is renowned as a standout within the sport, with his win at the International Scooter Association's world competition catapulting him to fame and adding a considerable sum to his bank account. He is considered one of the greatest scooter athletes of all time.
Believe it or not, pro scooter and freestyle riding are now widely recognized sports with financial rewards that often exceed those of other athletic pursuits. Riding these extreme vehicles is no longer seen as a hobby but a full-fledged career option with lucrative prizes and prizes for top competitors.
Considering a professional ride? There are several factors to take into account.
Firstly, Selecting the right stunt ride from the many options available today at varying price points can be challenging. With proper care and attention, you may avoid spending more than necessary and find the one that meets your needs and expectations.
The Best Stunt Scooter for Beginners
Different riders have different preferences, which is why so many unique products are considered the "best." One product may be the top choice for one stunt rider, yet not ideal for another - it all depends on their riding style, experience, budget, and other factors.
If you're starting out or shopping for a good scooter for your child, you'll need a different type than an experienced rider would choose.
When it comes to cost, as a beginner, it is best to avoid the cheapest option available, as it may not be reliable or secure. At the same time, it is not necessary to purchase a top-of-the-line scooter either.
If you're starting in the sport, you don't need to invest in a costly, top-of-the-line scooter. Such models are designed for experienced riders and may not provide the best experience for a novice.
Look for a strong, durable bike that is not too heavy, with good wheels, a stable fork, and quality bearings. Remember to ensure you like the design since you'll see it for a long time. With so many options available, don't settle for something you don't like.
Can you take a pro scooter on a plane?
Yes, You can easily take your pro scooter on a plane. Taking your scoot on a plane isn't as big a deal as you think. Taking your pro scooter on a plane is easy! Many riders, including your favorite pros, bring theirs when traveling.
When taking a scooter with you on a flight, it is important to remember a few things.
Inform the airline before traveling with a ride so they can complete any necessary paperwork. This can be done at the check-in counter, or the airline may have already completed it before you arrived at the airport and will provide it to you.
The form you filled out earlier has a copy on a heavy, red-colored cardstock tag, which will be attached to the scooter. The original form will be with you, attached to your baggage claim ticket. Security will conduct standard checks and allow you to pass through only if you are not carrying any concealed weapons.
At the pre-boarding area, you'll be given a claim ticket for your ride, ensuring you can collect it when you reach your destination. If you'd like the scooter delivered to the gate, ask the airline to attach a tag labeled "Claim at the gate," You'll receive it there. Collecting your item is accessible.
Many people wonder if they can take their scooter on an airplane. The answer is yes, and it's not complicated.
Frequently Asked Questions
How much is a pro scooter?
Most pro scooters can be purchased for about $200. Different models are available at different prices and accessible to most people. The cost is mainly determined by quality, brand, design, and additional elements. It may cost even more if you're looking for something more stylish. Custom scooters cost $450 on average.
For each budget and expertise level, there is an excellent option. Even if you don't require a fancy one, you can find one for as little as $100 or even less. Additionally, you could purchase a less expensive model, then replace some components, such as the Fork and wheels, to improve performance and longevity.
What is the best pro scooter?
Considering your experience level is the first step. Beginners and pros will have different needs. Size is another important factor; you should get a scooter that fits you comfortably. Lastly, budget is something to consider, depending on how often you plan to ride.
Before investing in a pro scooter, consider what you need. Is it for a beginner or an upgrade? Are you looking for something lightweight or sturdy? A wide or small deck? Familiarize yourself with the components to make an informed decision.
With so many awesome scooter choices, it's easy to find the ideal one for you. Check out our 20 best pro scooters for some ideas.
How old should a child be to ride a pro scooter?
Children as young as 1 can already ride their first scooters, but when is the ideal time to start with a stunt scooter? It varies depending on the child. However, most stunt scooters designed for beginners are suitable for children aged 8 and over, making this the best age to start doing this sport.
When purchasing a pro scooter for your child, ensure you get one designed for beginners and appropriate for their height. Most manufacturers will indicate the recommended age group. However, there are other factors in your decision. Some children may be taller or shorter than others and may have an aptitude for the sport that surpasses the suggested age limit – as long as you provide them with the correct and necessary protective gear, they will be safe.
How do we choose the best pro scooter brands?
We assess performance, weight, durability, cost, quality, and rider loyalty to determine the top pro scooter brands. The ideal brands balance these criteria perfectly, ensuring rider satisfaction is the highest priority. Additionally, some brands make a concerted effort to manufacture as many products in the USA as possible. Alpha Pro Scooters aims to get as many kids as likely to experience and enjoy the sport of pro scooters while creating an atmosphere that encourages rider growth and satisfaction. We promote community satisfaction and development by engaging with the trick scooter community. By spreading the word about how great stunt scooters are, even more, kids will be able to share in the joys of the sport.
Top 10 pro, stunt, and trick scooter brands
1. Aztek Scooters
Aztek has the most interesting origin story of any pro scooter brand. We have been rocking with Aztek and Dom, the owner, since their beginning. Aztek's owner is an avid rider and an engineering school graduate. He leveraged his education to create pro scooter parts, starting with the first scooter part, the Anthem Fork. His dedication to the sport and commitment to providing quality products at an affordable price has been a blessing to the pro scooter community. Aztek's street decks and stunt scooters are incredibly lightweight, offer more foot space, and are very durable, yet demand remains high. Unfortunately, this has kept them from ranking higher on the list.
Nonetheless, their products are of exceptional quality. Availability of Aztek products can be limited, so it's wise to buy if you come across one that an Aztek product that interests you. Aztek's Architect complete scooters typically start at around $160. Aztek's Fountain Deck is an incredible deal at only $100! Though it may not be the cheapest scooter company on the market, the quality for the price is unbeatable.
We acknowledge that Aztek is not the biggest pro team, nor do they back the most events. However, their products show they value and are dedicated to the community. This attests to Aztek's commitment to both riders and community involvement. Aztek's products are so impressive that they make our 2023 list of best brands of stunt scooters. With their amazing prices, quality engineering, and dedication to the sport, it's no wonder why we love them. They make pro scooters more accessible by providing such great value for money. It goes without saying that Aztek really cares. We need even more of them!
2. Tilt
When Alpha Pro Scooters first opened, only a few Tilt products were available. Now, we have just about every Tilt product. From week one, people asked for parts from Tilt because they offer many items at different prices. Unbeknownst to them, the Tilt team is a source of positivity and encouragement for the pro scooter community - and they're doing an amazing job! Tilt is renowned for its generous event sponsorships, giveaways, and support. 
What is Tilt Stage 1 and stage 3?
The three "stages" of pro scooter parts from Tilt include something for everyone. Stage 1 from Tilt is their entry-level range, but the quality of their products is still as good as some of the top pro scooter parts but at a fraction of the cost. The Stage 3 series from Tilt offers high-quality pro scooter parts with the highest caliber engineering.
The attention to detail sets Tilt apart from the Rigid Fork to the Theory 3 Deck and Rigid Clamp. The Rigid Fork of the Stage 3 range is solid and can accommodate almost any wheel size. It is a powerhouse, ready to take on grinding and other riding pressures. Tilt's Theory 3 Deck has proven to be a true masterpiece. With its wide range of sizes, thick welded dropouts for grinding, welded-on fender to safeguard the wheel, and lightweight yet tough construction, it is no wonder why almost every street pro rider has fallen in love.
Additionally, Tilt had the foresight to include a dust cap directly into their Rigid SCS clamp, making it easy for riders not to use a dust cap over their headset. The attention to detail and ingenuity that Tilt have put into their best scooter parts is undeniable, with subtle improvements making a real difference. This shows how much they care about the quality of their products.
The Tilt Brand impact on the scooter community
Discussing Tilt's relationship with the pro scooter community, it's easy to see why they have some of the best riders of professional scooters in the world working with them. Just look at their Instagram, and you'll be astounded by the incredible stunts and tricks their riders can do. Moreover, our customers are always delighted with Tilt's products, and their commitment to making everyone happy is evident - that's why they're on our list of the Top Ten best stunt scooter brands for 2023. We can't say enough good things about the team at Tilt and all they do for those they serve.
3. Proto
Nothing brings us more joy than equipping someone with their first set of Proto scooter wheels. Since their debut, classic Proto scooter wheels have been a classic - and you'll instantly understand why once you try them. Proto is a company that prides itself on quality, sourcing materials from America and manufacturing in San Diego, California.
Their scooter wheels are renowned for their smoothness and long-lasting durability - making them the perfect choice. Witnessing the rare occurrence of Proto scooter wheels de-hubbed is an unmistakable sign that the wheels have been heavily used and are worn down.
Although Proto scooter wheels are usually around $90 per pair, this price is comparable to other high-quality wheels, so it's acceptable. Proto is renowned for inventing the Standard Compression System (SCS) and holds a patent to prove it. Although their pro scooter parts are notably heavy, their quality provides excellent value for money.
We prioritize how Proto and other brands support the pro-scooter community. You can see that we take this very seriously. Proto is a brand that puts community first and they demonstrate this through their words, deeds, and products.
Proto TDI DEX
Notably, they hold a second patent for Tunglok Deck Integration (TDI), created to help save riders money. With TDI, riders no longer have to replace their entire deck when it breaks. Divide the deck into two sections, "Dex" and "Neck." Proto allows riders to replace the scooter's base when damaged, saving them over $100. In addition to their product, Proto supports plenty of stunt scooter riders and events to increase, encourage and reinforce the pro scooter community. At Proto, rider ownership, American-made quality, and dedication to the community are the cornerstones of excellence. This is why Proto has earned a spot on our list of the best Scooter Brands of 2023.
4. Lucky Pro Scooters
Lucky is a remarkable brand offering an extensive range of products and an exceptional pro team. Their expertise in complete and lightweight performance pro scooter parts makes them stand out.
Lucky has managed to achieve a good balance between lightweight scooters and durability.
Additionally, Lucky's scooters come in a decent price range. Lucky's Crew Complete scooter is their entry-level model, retailing for a fair price of around $180. While it may not be the lowest or highest price point, it is reasonable considering the scooter's quality.
At Alpha Pro Scooters, we value loyalty and community outreach greatly. Lucky does an outstanding job sponsoring top riders, events, and meet-ups. We are proud to be part of such an active and supportive community. Lucky has earned a reputation as a dependable brand. They may need a bit more pizzazz, but there is no doubt Lucky is one of the leading pro scooter companies in the world, earning its spot on our list of best brands of stunt scooters for 2023.
5. Hella Grip
Hella Grip stands out as a distinct brand! They have identified their specialty, excelling in the pro scooter scene with their signature grip tape. Their iconic logos, in various forms, make them instantly recognizable. In addition, Hella Grip keeps things fresh by dropping new designs based on their popular logo and the one-of-a-kind sloth logo.
Also, Hella Grip offers exceptional quality at just over $10 a sheet at an incredibly reasonable price. This rider-owned brand comes straight out of Oakland, California. It is renowned for its grip tape and support of the pro scooter community, and the community returns the favor. As their saying goes, for the homies, by the homies.
A lifestyle brand is a better fit than just a trick scooter brand. Represent them in style with grip tape, hand grips, shirts, hoodies, socks, hats, stickers, and accessories - there's no limit to how you can support this amazing brand! We highly recommend it!
Hella Grip is featured on our list of best stunt scooter brand list for 2023 in recognition of their strong commitment to and support of the pro scooter community. We stand with Hella Grip in all of their endeavors.
6. Envy Scooters
Envy Scooters is the biggest name in pro scooters and has something for everyone - no matter what kind of stunts or tricks you try. Their entry-level complete, the Envy One S3 Pro Scooter, is sure to impress. Envy Scooters, the biggest name in pro scooters, has something for everyone - no matter what kind of stunts or tricks you try. Their entry-level complete, the One S3, is sure to impress.
Envy Scooters provides an exceptional range of designs, colorways, and sizes. Their expansive product catalog is particularly impressive, offering something for everyone. In terms of performance, Envy Scooters offers consistently dependable products at competitive prices.
As a leading brand in the pro scooter world, Envy takes its responsibility seriously when it comes to backing riders. It's no wonder that Envy Scooters have become a household name - they truly live up to the hype. If you're reading this, you already know Envy is a force to be reckoned with. Envy Scooters is incredibly generous in both backing community activities and furthering the sport of pro scooters.
The amount of footage captured on Envy Scooters is unparalleled. Envy Scooters has a strong team of pro riders, such as Raymond Warner, Will Scott, and Jon Reyes, who help to drive and expand the sport. Viewers are often captivated and inspired to learn more when watching their content.
Envy Scooters is taking a leading role in promoting scooter riding. Finally, we are grateful to Envy Scooters for contributing to the growth of this community through their attractive and reliable products, which is why they make our list of top ten pro scooter brands for 2023.
7. Urban Artt
We are delighted to have UrbanArtt as one of the first brands we picked up here at Alpha. True to its name, UrbanArtt is an artisanal pro scooter brand with meticulous attention to detail. Unfortunately, this is reflected in its relatively high prices. PriceUrbanArtt products are generally priced at or above the industry standard.
For example, the Butter Deck from UrbanArtt, costing $250, is comparable to the top-tier quality decks in the pro scooter market. The UrbanArtt Butter Deck boasts impressive engineering with lightweight construction, a range of unique colors and designs, plus replaceable dropouts and dropout sleeves for extra durability.
UrbanArtt stands out from other brands with its solid engineering and commitment to street riding. Also, when you purchase a Butter Deck from UrbanArtt, you get the deck with dropouts and a metal brake included. In addition, you get replacement dropouts and a metal fender for the brake.  Plus, quality engineering backs UrbanArtt decks providing riders peace of mind.
UrbanArtt is undergoing a revival and delivering outstanding quality items for an unbeatable price - the Butter Deck being a prime example. So, at just under $150, it's an incredible bargain for the exquisite craftsmanship it offers. Some of the best pro scooter riders worldwide represent UrbanArtt. These riders are provided with the highest quality scooters and UrbanArtt products that ensure their success. We applaud their skill and dedication.
Finally, UrbanArtt has always been a significant supporter of pro-scootering. We've witnessed their commitment to the sport, from helping to make events a success to assisting their stores and the community. It's no wonder why UrbanArtt is one of the top ten best scooter brands for 2023.
8. Ride Affinity
Affinity is renowned and highly esteemed. Quality is paramount for the brand's focus on American-made products. Affinity takes immense care in their community, providing employment opportunities for pro riders in the US.
Affinity offers amazing high-quality products at or below the average industry price - no need to pay an 'insane' amount.
Handlebars, sell between $80 and $130. Still, Affinity can provide them for as low as $60-$80 - American made without the hefty price tag. Affinity currently offers a selection of components, including handlebars, clamps, grip tape, and bolts.
We look forward to seeing more from Affinity, which may be the key to them reaching the top spot. Our primary objective is to support pro scooter riders, and Affinity surpasses expectations in achieving this aim. Not only do they employ stunt scooter riders, but they have also provided backing to numerous events and riders. So, Affinity is a shining example of what it takes to support the pro-scooter community. We are proud including Affinity in our top ten pro scooter brands of 2023 list, owing to their exceptional quality standards and dedicated support for the pro scooter community.
9. Oath Components
Oath Components offers a product catalog of wheels, forks, clamps, and hand grips. Pro scooter riders appreciate the attention to detail and simple look Oath provides, such as all black and/or silver with a subtle accent of color on their wheels or grip tape.
At Oath Components, it is understood that stunt scooter riders want scooters that stand out from the crowd. That's why they offer an array of unique color combinations - from purple and gold to orange and blue, from red and teal to black, purple, gray, and red accents, and even black and blue accents - so you can find the perfect look for your scooter.
Whether looking for something bright and bold or more subtle, Oath Components has everything you need to make your scooter stand out. Oath Components boast beautiful color combinations and offer highly durable, well-crafted parts.
Finally, their prices are comparable to those of many professional brands, making them both affordable and inexpensive. Oath Components' community presence has increased steadily, and we are delighted! Their product designs have been outstanding, and all indicators suggest an incredibly successful future with innovative products and rider support.
10. Fuzion Pro Scooters
Fuzion Pro Scooters is one of the top brands in the pro scooter industry. This brand offers the best in affordability and performance. In addition, most Fuzion scooters and parts are priced below other similar options without sacrificing strength and performance. Fuzion makes pro scooters more accessible and affordable, with their z250 model priced at just $140.
Even their top-level z350 model is only $189.95, which comes in at about $40 less than other comparable scooters. With such competitive price points, riders just getting into the sport can join in with Fuzion. Their scooters are designed to be lightweight and durable, making them perfect for experienced riders and beginners alike. They have a variety of sizes and colors to choose from, and the quality of their scooters is second to none.
Finally, their solid and reliable components make them an excellent option for a quality ride. Fuzion Pro Scooters also offers its own line of accessories, so you can customize your ride to fit your style. Whether you are looking for a reliable ride or a unique style, Fuzion Pro Scooters has you covered. We value Fuzion for making scootering more accessible. 
Best Pro Stunt Scooters Brands Summary
In conclusion, the pro scooter community is flush with incredible individuals and companies crafting incredible products, so narrowing down this list took a lot of work. As the pro scooter community expands, we are beyond eager to witness how these brands respond to the challenge and keep pushing forward. We can't wait to see the amazing new products that will come to fruition. Above all else, what's most important is that the pro-scooter community remains united and that we all work together to make it bigger, better, and stronger. Here's to the pro scooter community and all the incredible brands striving to make it even more remarkable daily.
---